ABOUT US
Grrl Action is a program of Rude Mechanicals, a registered 501(c)(3) non profit organization. Grrl Action began in 1999 as a summer workshop in creative writing and performance designed to empower girls between the ages of 13 and 16 to find their public voices and build confidence while collaborating with young women from diverse socio-economic and cultural backgrounds.
Our Mission: 
To help teenage girls find voice and vision through the power of performance.
Our Vision:
We see teenage girls realizing their potential as artists, critical thinkers and powerful role models.
Our Guiding Principles:
Engagement with the arts
Creative problem solving
Social responsibility
Self-respect
Tolerance
Our Facility:
Rude Mechs is pleased to announce that Grrl Action now has its own dedicated classroom, The Off Shoot, a 1,400 sf classroom located at the eastern-most end of our our performance facility, The Off Center. For more information about The Off Shoot, click here.
Rude Mechanicals
The Off Center
2211- A Hidalgo St.
Austin, TX 78702
Our Staff:
JODI JINKS | CO-DIRECTOR
Jodi Jinks MFA: Active as a theatre artist for over twenty-five years, Jodi began her career as an actor in regional theatres such as Woolly Mammoth, Kennedy Center, St. Louis Repertory Theatre, performed on Broadway in Blood Brothers, toured with the musical Titanic and appeared in Mad TV and the film Nothing to Lose starring Tim Robbins and Martin Lawrence. Jodi moved to Texas in 2001 to assume a Lectureship at Texas A & M University and has been Theatre faculty at Austin Community College since 2005. That same year Jod became a member of Rude Mechanicals, under whom she began ArtsAloud , a program dedicated to the creation of original theatre pieces with women in transition. ArtsAloud served women at Geo/Lockhart prison, SafePlace, and Austin Recovery Center. Her expeience is chronicled in the chapter entitled The Buckle on the Bible Belt in the book, Performing New Lives: Reflections on Prison Theatre in the United States, edited by Jonathan Shailor. Currently Jodi works with women at the Travis County jail in Del Valle. This is her first year as Co-director of Grrl Action.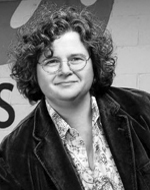 MADGE DARLINGTON | CO-DIRECTOR
Madge Darlington, MFA, has served as Grrl Action Faculty and as Production Director since 2004. She is a Founding Co-Producing Artistic Director of Rude Mechanicals. For Rude Mechs, she directed the first-ever stage adaptation of Percy Shelley's Prometheus Unbound. She has also served as Scenic Designer for Lust Supper, as Technical Director for Lipstick Traces, Requiem for Tesla, Big Love, How Late it Was How Late, and Cherrywood. Madge performed in Rude Mechs' productions Pale Idiot, Salivation, and In the House of the Moles.
Through her association with the University of Texas Shakespeare at Winedale program she worked as an Actor or Assistant Director on over 25 Shakespeare plays (including Hamlet and A Midsummer Night's Dream at Shakespeare's Globe, London). Madge served as Program Coordinator for the University of Texas Shakespeare at Winedale summer program from 1994 to 1999, where she administered the program and instructed undergraduate students in performance, design and technical direction. Madge has taught theatre to young people in Rude Mechanicals' Adopt-a-School Program at Travis High School, and in Leander High School's drama department. Madge also created a Shakespeare study in performance program for the at-risk youth performance group Cultural Warriors at the American Institute for Learning in Austin, Texas.
In May of 2004, Madge received an M.F.A. in Theatre Technology at The University of Texas at Austin. She remains a Junior Fellow of British Studies at The University of Texas. During her time at the Department of Theater and Dance she worked as Technical Director on Brecht's Caucasian Chalk Circle and Yacov Sharir's Automated Body Project. She has studied with Ann Bogart, Jill Dolan, Stacy Wolf, Deb
Margolin, and Peggy Shaw.
Site photo credit: Beverly Barrett Photography